I would like to suggest a method that I used currently to put my post on the first page of Google. Follow the steps which I outline here and go through the steps, and you will see your post get to improve in ranking. Eventually, it will reach the 1st page.
But bear in mind, Google considers the freshness of the content as one of the ranking factors. Therefore, constantly updating your content is essential to win the race.
The last update of this post content was Aug 9, 2018, and today (Nov 10, 2019) I put in additional content to update it. Let's see how it ranks in Google search.
Here are the 6 steps you may follow:
Step 1: Go to Google Search Engine, key in this phrase

how to get on page 1 on google

.
Step 2: Copy the URL of those SERP appearing on Google 1st, 2nd and 3rd page.
Step 3: Paste them into an Excel sheet and sort SERP by the ranking.
Step 4: Start reading and analyse all contents written by SEO writers.
Step 5: Implement suggestion by top ranking writers. First with the one on position o and follow by rank 1, 2, 3…..
Step 6: Check Google ranking result, re-tune your content and improve further.
Step 1: Go to Google Search Engine, key in this phrase
how to get on page 1 on google
Google is the number 1 search engine people use, it is the place people go to when they want to search for the information they need. Therefore, it is important for you to know How To Get On Page 1 of Google. The method you use on Google Search Engine can be used on Bing and others as well, once you master all the techniques.
Remember not to put any quotation marks on the phrase, because most searchers do not use it when they type in their question inside the search engine. Also, with this method, you can reveal the true competition that is related to your content.
Step 2: Copy URL of those SERP appearing on Google 1st , 2nd and 3rd page
Most searchers will look at those SERPs appearing on the 1st page, and they are some even will cover till the 3rd page; with some extreme will scan through all the pages till the last. But mostly they read the content of those URLs listed on the front page.
Google search engine has become smarter day-after-day, and they will show you the relevant result and content to your question. There are a ton of SEO specialists on the internet who will teach you how to get ranked on Google. You can learn a lot from those writers appearing on the first 3 pages.
Step 3: Paste them into an Excel sheet and sort SERP by the ranking
Paste those URLs you copied appearing on the 1st, 2nd, and 3rd page onto an Excel sheet and rank them according to their position appearing on the SERP. It is important for you to have a framework to work on and track your progress and result. Excel sheet has been widely used by companies to monitor performance and report the result subsequently. It is a tool you can use in your ranking exercise.
In the Excel sheet, you can create multiple columns with "SERP", "Rank", "Read", "Implemented", "Improved" to keep track of your action and progress. This is the method I used to keep myself on track to achieve a higher ranking result on Google.
Step 4: Start reading and analyse all contents written by SEO writers
When I entered the title of this post, my post did not even appear in all the 27 pages of the SERP on November 20th, 2017  because I have yet to implement those guidelines given by those SEO experts. The first post that appears with a featured snippet is Neil Patel's "The Step-by-Step Guide to Improving Your Google Rankings Without Getting Penalised".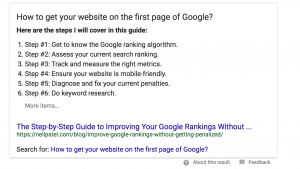 This position is named Position 0 in the industry and is picked by Google to be highly relevant to the search phrase, especially those DIY "How to" topics. It may attract searchers' attention and encourage them to click your post, better than the Position 1 ranking number 1 on SERP.
Neil Patel is the expert in SEO ranking therefore I have no issue with him ranking on this 1st row of the SERP. He is indeed a genius in this highly competitive niche market. I learned a lot from this blog post. The steps that he highlighted here are relevant for you to take note of when you want to get to Page 1.
Update on September 5, 2018 on Neil Patel's post ranking
When I google the same phrase "how to get on page 1 on google", Neil Patel's post is not ranking on the 1st page. However, my article of this post appears on the 1st Page, right at the bottom (wow… I have made it to 1st Page of Google).
Update on November 10, 2019 about the Featured Snippets
The Featured Snippets belongs to Cristers Media Marketing Agency by Buddy Rigotti. Neil Patel's post still ranks highly on Page 1 appearing after the Featured Snippets. 
Want to learn more about Featured Snippets?
What does this tell us? If your content is relevant, up-to-date, and useful, Google will continue to rank you. New and better writers continue to appear and you too can become one of them.
How can Google find your site? Check out my Get Started Page.
Step 5: Implement suggestion by top ranking writers. First with the one on position 0 and follow by rank 1, 2, 3…..
Knowing something but without any action is not going to work, especially in the SEO industry. After reading those articles, you need to take action and put effort into your content. As I said in an earlier step, Neil Patel's article has many useful tips for us to follow and implement. you need to analyze it and do those actions you deem relevant to your post and do those actions that you have not done on your content.
Here are some of the suggestions by SEO experts:
SEO of Meta Title
Meta Title is very important for the searcher to identify what kind of content is on your page. Google suggests that the length of the character should not be more than 60. More than that, it will be cut off by Google during the SERP.
You can edit the Meta Title in your All-In-One SEO or Yoast SEO Plugins when you are using the WordPress Content Management System.
Try not to use words like "a", "the", "but", "thus", "if", "an" in your Meta Title. These words will not help you. You can consider adding prefix (before) or suffix (after) to your title like words "buy", "review", "purchase", "discount", "coupon", "deal", "shipping", "order". Words like these may attract the eyeballs of the searcher to click on your post.
SEO OF Meta Description
The Meta Description appears right below the Meta Title during the SERP when the searcher found your page. Google recommends keeping the length less than 160 and you can edit your Meta Description in the All-in-One or Yoast SEO Plugins.
Some SEO specialists prefer to customize the Meta Description themselves, rather than leave it to Google for its own insertion. The Meta Description is not one of the ranking factors by Google, but certainly, it may attract the searcher's attention and motivate them to click on the SERP.
SEO OF Link Building
In order to get rank well, you need to put external links and internal links within your page. These are essential elements Google looks for when Google decides which page to put forward to the searchers when they put in their keywords.
If you prefer to learn online, about How To Get Ranked number 1 Of Google, you may consider exploring Wealthy Affiliate Online Course. On this online platform, you will be able to access various kinds of modules to learn all about SEO.
How Social Media Posting Work
With the popularity of Social Media platforms, many people are using these social media for communication. They spend a lot of their time on Facebook, Twitter, Pinterest, etc. In order to reach out to them, you need to get yourself a presence on all these platforms.
Once you created your content as a page or post, remember to post your content on your social media sites. This action will lead you to get found by the search engines faster.
SEO of Google Tools
Google has useful tools which you can utilize to make your site page rank higher. The Google Search Console (used to be Google Webmaster Tools) and Google Analytics are free tools provided by Google for all of us to use. Feel free to check them out and learn to use them effectively. Another important tool – Google Keyword Planner, is very useful for you to identify the right keywords to use on your page.
After you have created your content, it is advisable to do a Fetch as Google in the Search Console. This action will lead to a faster index of your page/post and allow the search engine to find you at the soonest time.
Step 6: Check Google ranking result, re-tune your content and improve further
With all the earlier 5 steps you have performed, the exciting part you wish to know is your ranking performance. This is the step you want to do now. Put in the phrase you wish to rank in the Google search engine, see the ranking result. I hope the steps outlined here will make your ranking improve one step, and you need to continue to climb further.
How long does it take for a new website to rank on Google? I would say, as long as you keep learning all the techniques and actions on your website, you will reach the top rank on google.
See you at the top!!!
Take note some advice may require you to sign-up for paid services, or you may visit my Get Started page to explore free membership I recommend to kick start your learning journey.
It is always helpful to learn from others as well. You may want to click on the below book from Amazon to learn from Ben Norman, and he will teach you to get ranked to Page 1 on Google. Most importantly, Google will rank you when your content is relevant to what the keyword phrase searcher has input at the search box.
Ben Norman is the CEO and founder of Koozai, a digital marketing agency in the UK helping SMEs to increase their business online. I found his book on the Singapore National Library Board at the Ang Mo Kio branch and would like to share with you what I have learned from this book.

One important lesson the book teaches you is the use of Organic SEO on your site. According to the Google Webmaster guide, there are various elements you need to consider and master, in order to get your page to rank highly on Google. You will know more when you purchase the book from Amazon for further reading.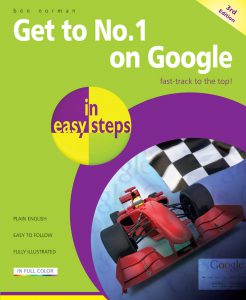 Creating useful content helping readers is the most effective method to get ranked by Google. When your content is loved by Google, it will reward you with your content being displayed on the 1st page of Google search.
This article How to create pillar content Google will love is going to help you tremendously in getting more traffic to your website. Have a read and apply what you learn from the article.
Learn From Brian Dean How To Rank #1 In Google
Below is the video by Brian Dean teaching us how to rank on page 1 of Google. I suggest you watch it often so you can utilize his method.
Brian has just updated his SEO tips for all of us. You can find his SEO Marketing Hub 2.0 here. I suggest you go to his site and learn about all the SEO knowledge he shares with us. This will greatly improve your SEO skills.
Use Attention Getting Words In Your Title Post
When your content post appears on the 1st page of Google, you need to attract the eyeballs of the searchers. In order to stand out from other Search Engine Result Page (SERP), you need to use Attention-Getting Words in your title. Below are some of the suggestions:
advise
congratulations
limited time
save
wanted
announcing

free

new
secrets
which
at last
guaranteed
now
smart
who else
because

how to

proven
special invitation

why

confidential
introducing
revolutionary
success
yes

[list-related numbers]

you

tips

blog post

best

tricks

great
Visuals SEO Ranking Factors
The use of visuals will help in the SEO conversion. Images, Videos, and GIFs are effective ways to improve conversion rates. If you want to improve your SEO, do not ignore all these visual's effects.
Adam Connell has a good article teaching us where to find all the visual tools to improve your website SEO ranking.

There is free video editing software on the internet, which you can download on your computer to use for your application. Feel free to visit Oberlo Website and use them to optimize your content.
How To Get Millions of Visitors from Google in 2018 To Your Site
On September 7th, 2018, I get to know this article "How Four-Numbers Can Send You Millions of Visitors from Google in 2016". This really excite me because I was searching for a way to increase traffic to my site. Amazon has just rejected my affiliate membership due to low traffic to a site, which  I was promoting an Amazon product.
I am eager to learn all the necessary steps to gain more visitors to my site. This article makes me want to read more about it. How I get to know this article, it is through the wonderful network I got at Wealthy Affiliate. Wealthy Affiliate has a wider network of successful Affiliate Marketers helping each other to succeed. You really must join. Visit my Get Started page and sign up for the free membership today.
The strategy work in 2016 and it will still work in this year 2018. Imagine millions of visitors coming to your site, and you will have a huge opportunity to offer your products to them.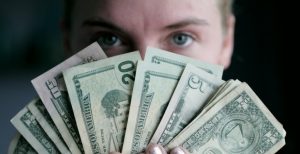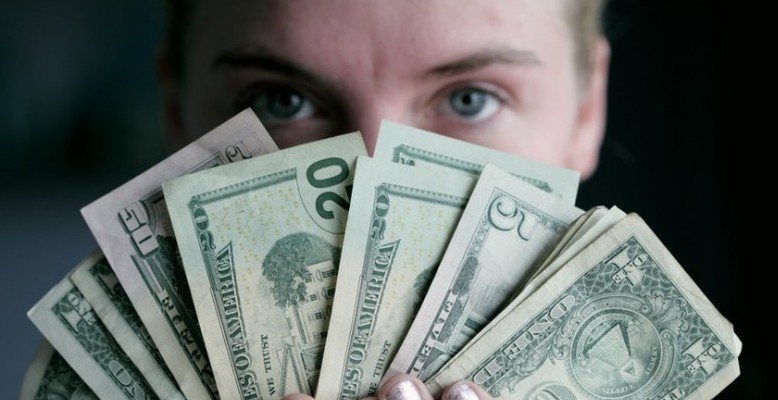 Google is a technology company, just like Facebook and Microsoft, they continue to evolve and keep upgrading their technologies, products, and services to meet the ever-demanding consumers. In order to keep up with the changes, we need to be part of a growing community.
One of the best Online Business communities I recommend you to join is the Wealthy Affiliate Online Community. Feel free to sign-up for the free starter membership here and get informed of all the latest development in the industry.