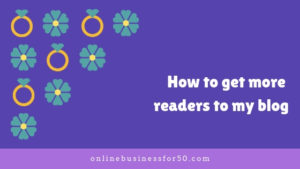 How to get more readers to my blog when I have contents but no one come to read it?  What should I do? These are the questions you would like to find an answer for it.
You may want to do some actions on your site and make improvement to it. Here are some of my suggestions:
Perform SEO audit
Improve website design
Answer questions raise by searcher
Catch visitors attention
Performing SEO Audit
You may need to do a SEO Audit of your website. I found an article written on Search Engine Journal "How To Perform an In-Depth Technical SEO Audit" very relevant to this topic. Have a read and pick up the important pointers from the article.
Some of the tools you may want to explore further are:
It is okay. I will guide you the way as I have learned from the internet. One effectively way is to build relationship with successful and important people in your chosen field. They would like a lot of followers in reading their contents and you can build on their networks.
To reach out more readers, you must focus on engagement and build real, mutually beneficial relationship with them. Only then, the readers will come and read your content. You can also learn from expert Michael Stelzner of his Advanced Blogging techniques – How to Make Your Blog Serve Your Business Needs.
Improve Your Website Design To Get More Readers
When your website design is not effective and easy for the readers, they tend not to continue reading your articles and may leave your site within few seconds. I have came a cross an article by Andy Crestodina from Orbit Media. He teaches us the 27 tips to design your website that works.
Here, I extract few pointers which you can refer and when you have more times, go through the article and have a full review.
1.  Use descriptive, key phrase and focused headline
Reader will decide whether to continue reading, by looking at your headline. If it is relevant to their needs, they tend to continue their read further down your article. The headline need to be descriptive and tell the readers what is it about your article.
There are various articles on Copyblogger which teach you how to write magnetic headlines. You may have a read inside and pick up good tips from those articles.
Popular marketing company MOZ also has good tip to guide you in writing irresistibly worthy headlines you can apply. I found it useful and would like to share it with you here.
2. Use People Pictures
I like the phrase "from the time we were born, we gaze at faces more than anything else". This is so truly that we human like to see faces of other people and this is one reason Facebook is so popular.
Use real people photos instead of stock photos. Real people pictures are more genuine and build stronger trust.
3. Use Arrows As Visual Cues
A simple arrow can be very powerful in getting your visitor to look at the element on your page. By pointing it with an arrow, your reader is likely to notice it and read about it.
Answer Those Questions Your Searcher Asking
One of the ways to get content idea is, answer those questions your searcher is asking. When searcher come to the internet and go to Google search engine, they are looking for an answer to their question. If you can provide the useful and right answer to them, you win them over.
In order to provide the answers to those questions, you need to identify what are those questions searchers likely to ask on the internet. One useful resource you can turn to, is at Answer The Public. You will get many ideas when you check this website.
Catch Visitors Attention
There are  3 basic ways for you to get attention from your website visitors:
educate them
entertain your online audience
inspire those who visit your article