UOB Income Builder is one of the investment tools build for Singapore Citizen. If you are Singaporean, you should seriously consider this investment tool. Be it for your retirement planning, or for your child education needs, or even for future emergency needs, UOB Income Builder has the solutions for you.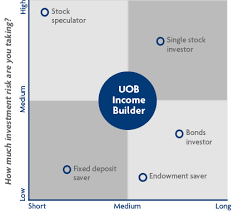 With inflation increasing each year, the saving or fixed deposits interest we are getting from the bank is very small. However, investing in stock poise high risk for many Singapore Citizen with limited financial knowledge. Thus, UOB Income Builder offer the middle ground for us to consider. The Income Builder is a collection of these investment funds (BlackRock Global Multi-Asset Income Fund, JP Morgan Global Income Fund,  Schroder ISF Global Multi-Asset Income, United Income Focus Trust and Fidelity Global Multi-Asset Income Fund) chosen by UOB investment specialists. These are diversified funds covering various geographical markets and asset classes and spread across equities, bonds and real estate investment trusts.
When you are 50 years old and above, you need to start thinking about your retirement needs. For Singapore Citizen who wish to embark on creating business of their own, you may consider to visit my other online income generator to learn about alternative option which will provide even more retirement fund for a longer term. There is a growing number of older workers determined not to end their careers when they reach their retirement age, but it depends very much of their employers especially the private sectors which has become very competitive in the globalisation era. Therefore, to have better control over our own destiny and income, I strongly suggest to find work that allow us to earn income when we get older and we ourselves determined how much work we want to do each time. Isn't this wonderful opportunity everyone of us looking for?