It has been a difficult period since last year 2017 as my ex-company decided to close down the office, after working there for 20 years. This year I have worked for 2 companies but not successful, it does not work out well and ended with jobless now. Start wonder how to change my life, so can provide my family food on table.
I have been searching eagerly these few months and looking for an answer to solve my problem. What changes I need to do on myself so that my life will become what I wish to be? Confused, doubts, angry, loss, etc all these negative's emotion keep coming to my mind. I started to question myself, why this thing happen to me at this stage of my life?
Starting to seek for an answer. I re-read those books I have came across in the past and still lying in my bookshelf. Book like "Release Your Brakes" caught my eyes and I started reading it again, hoping to gain some perspective from it and get tips to improve my life. One sentence that strike me is " How your life will change, will be the result of some decisions I am making now". This is a very good phrase which reciprocal within me very well. Any decision we make now, will determine where our life will be. I totally agree with this statement.
The Decisions I Make Now Will Change My Life
When I acceptted the closing of my ex-company last year May 2017 from the management, this is the result I am facing now. If I will to reject their decision and decided to offer other alternatives, thing may change otherwise. Do I feel regret or angry? I am not sure at this moment because when I accepted their decision, I was loosing hope on that company and decided to moved on from it.
I wish to have a change at that moment as I see no future if I will to continue working for that company. The company has created many issues while I was with them throughout the 20 years career. I wish to have a better future life and decided to accept the closing of that company. So, why I am regret and feel lost? It shouldn't be. I should focus on the better side and feel good about my decision. Start creating my new future and do what I wish to be in life.
So what is the life I wish to be?
A life that I can decide on my own terms and not being decided by others what I should do. I have strong feelings recently as I went for interviews and sending resumes to potential employers. Feeling so much stress and need to fulfill their needs instead of my wish, it limits my creativity and I need to focus on their wants instead of what I wish in my life. I kind of feeling frustrated and trying ways and means to please them in order to get the job offer. Is that what we want in our life?
Life shouldn't be this way. We must live our life with joy and fun and do what we want.
Guides I Should Follow In Order To Change My Life
So, what should I do now? How do I move from here and start making my life better?
With internet and books everywhere, we can always turn to them and refer to them,  and learn from the experts. Which resources are good and effective on us? It depends on each individual. Everyone of us is created differently. Therefore, it is important to find guides, methods and tips which work for us.
As the book "Release Your Brakes" mentioned, just like playing golf or driving a car, we need a manual which teaches us the basic and fundamental techniques so we can start with ease. I am re-learning about the techniques taught in the book, and eager to apply it in my life now.
According to the book, author James W. Newman promised you that Your Life Will Never Be The Same after you apply all the techniques in the book. I am excited about it.
Learn From Other Experts
It is always good to learn from experts who have experienced the same setback as you and they have moved on to become a better person that they want. Most importantly is, the change make you a better person you wish to be, not to follow others. Do what is good for you, uniquely different from others, be yourself and feel happy about it.
One of the articles I came across, is written by Tim Denning, "14 Ways I Completely Changed My Life". You can have a read and get some inspiration from his article. His words are full of wisdom which I like them very much. All these tips can apply easily in our daily life and we should adopt some of them if all are too heavy for you. Try one of the methods he suggested and see the outcome. You never know what decision you make today will change your life tomorrow.
Be An Alpha
Recently I came to know a dietary supplement called Alpha-Male and wonder why the name "Alpha" and google it on the internet. It leads me to a site "To be Alpha" and this site contains a lot of tips to help us take control of our lives and live the life we want. Have a read and gain some benefits from it.
Challenge The Impossible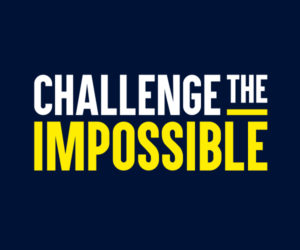 I was inspired to add some word here tonight (Sep 13, 2018) after watching the show on TV "Challenge The Impossible". The show tell us that there is nothing impossible if we put our efforts, time and energy to do those thing we love.
With the huge population in the country, China has many talents and you can see how human can challenge the impossible. Below is the YouTube showing the show. Have a look and see the impossible.
Going The Extra Mile
As Peter Sage said, by going the extra mile, only then we can make an impact and produce lasting change in our life, as well as others life.
His phrase is full of inspiration, and that is the reason he is a well known international & serial entrepreneur, author, philosopher and teacher. We need to learn from him.
Conclusion
Change your thought today, and make a decision now, your life is going to become better. Have faith in ourselves that we can leave the world a better place and everyone of us can make a different.
Be happy with what we have now, and feel good about ourselves. I find blogging really an effective way to motivate ourselves to become a better person and also free ourselves of all the limits other impose on us. When we are blogging on our website, our mind is full of ideas and we think freely. This is very important to cultivate a confidence within us.
For those of you who want to create your own blog or have your own website, go to my home page or Get Started page and sign up for the free account. It is absolutely free to use and you can create 2 free websites for yourself.
All the best to you and let us start our life changing journey together.
Click Banner below to learn about Internet Marketing